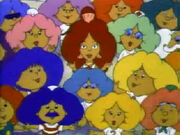 The Suntots are a species of tiny humanoids with colourful giant (troll doll-like) hair who are generally very happy, co-operative and environmentally friendly. According to the lyrics, they may actually be forever young, though their portion of the lyrics are sung with some sarcasm (as there is probably not actually any magical coral) so it is unknown if this is true. Characters like Uncle Boom who appear quite old indicate that some aging does occur, though it may be delayed (such as with Papa Smurf).
The Suntots' lives are often inconvenienced by the pollution and other interference created by the Smoggies, led by Emma in her search for eternal youth.
The Suntots generally walk around barefoot. Besides eternal youth, they also appear to have the power to survive underwater without coming up for air for days on end, and can communicate with animals very well.
Names of Suntots include but are not limited to:
Core group
Edit
Animals: for all animals besides the smoggies and tots.